Nowadays, it is not a secret there are millions of ideas, designs and offers as for choosing the best, delicious and unforgettable design wedding cakes. But how to make the right choice!!! The more options we have the harder is the choice!!!
But we are ready to give you some very useful tips which will guide you to the right way and your wedding will be gorgeous.
   

Number 1- wedding dress cake

                  Wedding dress cakes are always impressive!!! If you ask a cake designer to make a cake which will look like your wedding dress, your guests will be in a pleasant shock. Why not make it big and stunning!
Number 2-wedding cakes with trucks
Wedding cakes with trucks are very untraditional and not easy to see at each wedding. If you want to be original and have an exclusive wedding cake, you can use this idea. Your wedding truck can have various kinds of form, size, colors and even type.
Number 3-cherry blossoms wedding cake
                Cherry blossom wedding cake will be an amazing surprise for everyone at your wedding. It looks as if you are ready to share your brilliant moment of happiness with everyone! Ask a wedding cake designer to make it tasty and bright inside.
Number 4- cannoli wedding cake
The cannoli wedding cake is a feeling of Italian taste. From first sight, it can have a very simple image but it is a stereotype. It is very tasty and guests always eat cannoli with pleasure and appetite. If it is made by a professional cake designer, you will be satisfied with the result and your wedding cake will remember each guest and will take one more piece of this delicious masterpiece.
Number 5- wedding cake frosting type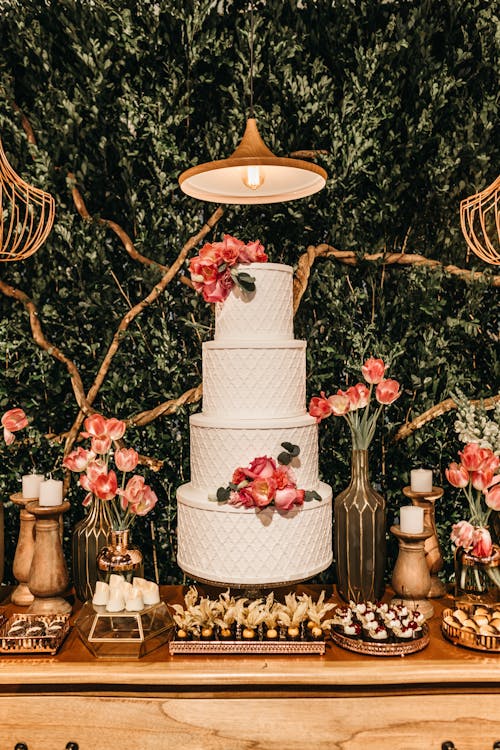 Wedding cakes with frostings can have very different types. You should always remember that everything depends on your style of wedding. If you choose a rustic style to choose natural-looking cake. Classical or near the beach style includes more traditional looking icing. You can always discuss this with your wedding cake chef and he will provide you some ideas which are interesting for you.
Number 6- his and her wedding cake
            His and hers wedding cake is unbelievably impressive. We usually pay attention to the bride more than the groom but sometimes it is so important to show the interest to the men part and personality. His and hers cake will be the perfect option!!!
Number 7-traditional wedding cake
    A traditional wedding cake is for those who like modern traditional ceremonies with lots of guests and the classical style of the wedding. But traditional doesn't mean not tasty and simple. Believe me, sometimes to make such a wedding cake you should spend hours and days before you choose what you really desire.
Number 8- unique wedding cake
Unique wedding cake is a great challenge for wedding cake designers to make. There are many underwater stones from choosing the ingredients to the size and form. But there are people who can make your wishes and dreams real. Just put an aim and you fine you unique tasty and excellent wedding cake.
Number 9-floral wedding cake

                                                                                                         Floral wedding cake is tender and beautiful. Flowers give the feeling of romance and tiny secret inside. You never know what is inside this beauty.
Number 10- butterfly wedding cake
Wow, the reaction is guaranteed after tasting it. Butterflies can be in different colors. It will look great if your wedding cake, will match your wedding style and shades.